Howdy Ya'll!
Holy Moly - Jillian Michaels may be the devil. She may not look like the devil - but, trust me she is!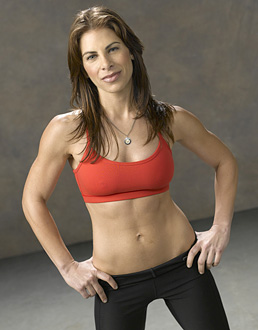 Laura and I started the Jillian Michael's 30-Day Shred 9 days ago...and I was already getting bored with doing the same ole workout over and over again so I decided to use these other Jillian Michael DVDs. Seriously, they were so much harder than the 30-Day Shred - I bought them several years ago and had never really done them before.
Yesterday, I finished the Shape Up Backside and today was the Shape Up Front...for a beginner like me, they were a serious workout. But, I do like them...and I like how this set comes with 5 different workouts, plus I have the 30-Day Shred to mix in as well.
I will keep you guys up to date - but, I would like to give a shout out again to my motivation partner, Laura. I feel so guilty when she works out before me for the day - and the guilt continues until I get finished for the day. I even woke up at 4:45 am on my birthday, which was a SATURDAY, just to get my daily torture from Jillian Michaels because I wasn't going to have any other time in the day. Hopefully, the motivation sticks.
I am going to go pass out now.
Toodles!